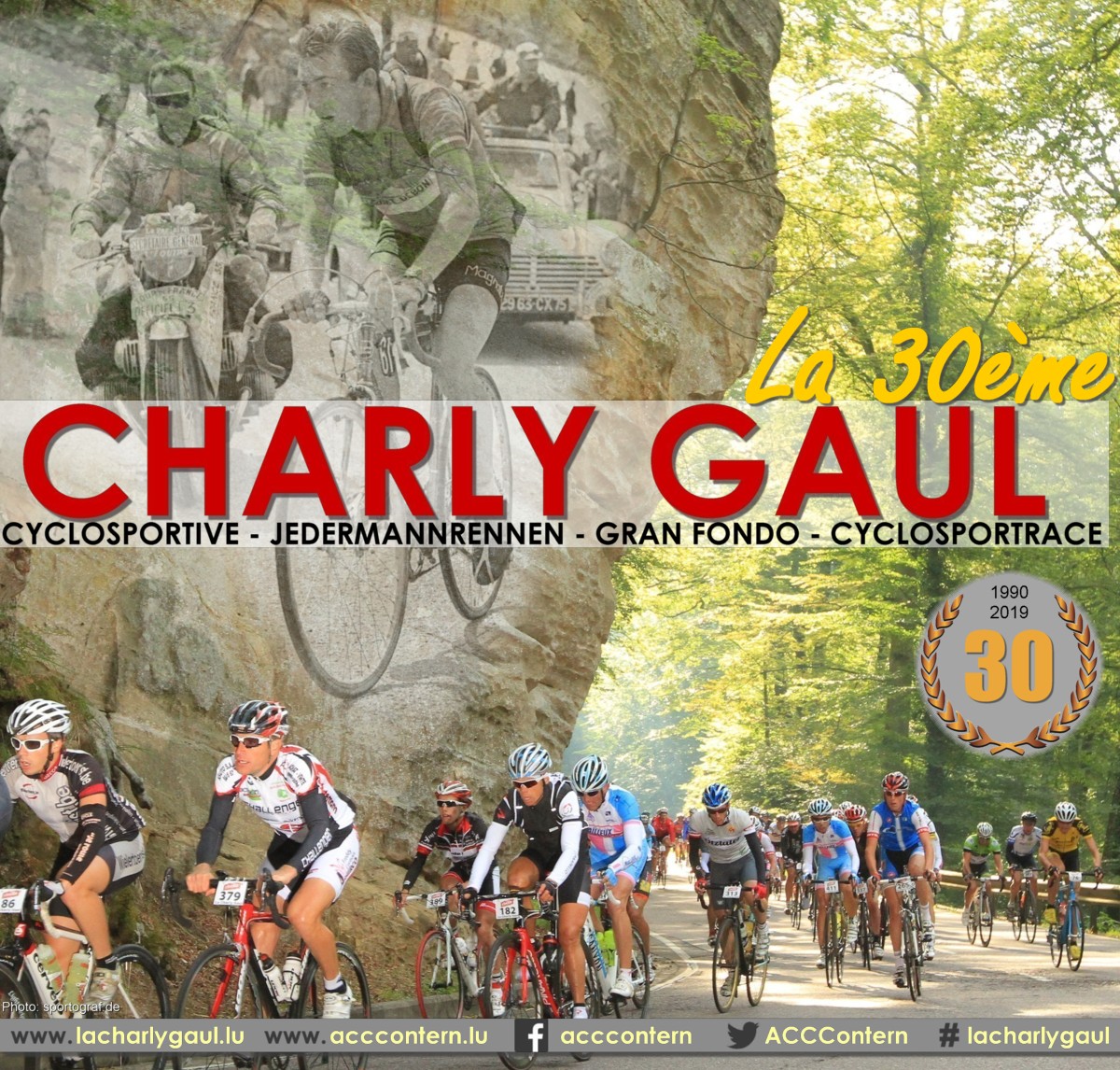 | | |
| --- | --- |
| La 30ème CHARLY GAUL takes place on September 8, 2019 in Echternach | |
Contact:
ACC Contern
c/o Alain Conter
47, Op der Hobuch
L-5832 FENTANGE
Tél: (+352) 621 23 16 45
acccontern@gmail.com
NEWS FROM "LA CHARLY GAUL"
Complete results of the 30th edition of La Charly Gaul are online now. They can be found

HERE

Finisher diplomas for La 30ème Charly Gaul are available in our feature

DOWNLOAD

Participants of La Charly Gaul 2019 can choose between two courses, one of 160 km and another one of 105 km

more details here

The complete regulations of the 30th edition of La Charly Gaul can be found

here

You can find the time schedule of the even in our feature

Program

ACCESS AND INFRASTRUCTURES

How to come to Echternach ? Where can I park ? Where is the registration ? ...

Answers here

Ducati Luxembourg supports the La Charly Gaul with volunteers, helping us to improve security on the course.

more information ...

La Charly Gaul is in 2019 part of the #BEACTIVE movement that promotes sports in Luxemburg and Europe.

more information ...
DU COTE DES RESEAUX SOCIAUX



Note: "This site contains links to other pages, on which content and presentation we don't have any influence. These refences are indicated merely for your information and and we can't be made reliable for any of the content of any of the places our links may take you to."
Contact: ACC Contern - c/o Alain Conter - 47, Op der Hobuch - L-5832 FENTANGE - acccontern@gmail.com