The 21st La Charly Gaul has attracted up to 1000 participants, among them former Flèche Wallonne winner Kim Andersen and two times Giro d'Italia champion Gilberto Simoni. Under bright sunshine, two well-known riders have taken the victory in the scratch races because Jean-Charles Martin and Peter Schroen took both their third victory in the A respectively B category. In the women's rankings however, Mariska Breyne and Melissa Flagothier appear for the first time on the winner's list.


With perfect weather conditions, there were plenty of people in Echternach for the 21st edition of the only cyclosport event in Luxemburg.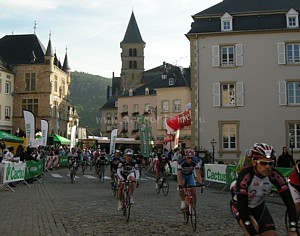 start under bright sunshine

950 riders registrated on the lists of the ACC Contern, which means 137 participants less than in the record year 2009, but still about 200 more than in the year 2008 and the 2010 edition is taking second place in the rankings of the most popular ever editions of La Charly Gaul, ahead of 2005 (928 registrations). 353 brave riders (422 in the previous year) opted for the long course of 160 kilometres, while 597 contenders rather preferred the shorter race of 95 kilometres. There were also less female riders in the big event (11 ladies at the start in 2010 but 19 in 2009) while the amount of women in the B-race nearly remained the same than last year (24 this time and 25 in 2009).

Jérôme Simon and Charel Faust were the youngest riders in the peloton, finishing 227th and 434th of La Charly Gaul B while Robert Junker showed a nice performance by finishing the 95 kilometres course at the tender age of 80 years. In La Charly Gaul A, Albert Even was the most experienced rider with 69 years and he showed a tremendous perfomance by taking 142th place of the day, less than an hour behind the winner Jean-Charles Martin, by more than 30 years younger than him. Yves Lehnert and Nico Thoma also showed up once again this year, both of them remaining the two riders that have participated in every single of the 21 editions of the race without exception. Luxemburgish riders were once again in the majority (266 contenders in 2010, 347 in 2009) ahead of the Belgian (165 registrations) and the Dutch contenders (109). But most of the home riders opted for the shorter course (204 Luxemburgish riders at the start of La Charly Gaul B) and in La Charly Gaul A, the Dutch riders formed the biggest group (88 registrations) ahead of the Belgian (79) and the ones from Luxemburg (62). Next to the other traditionnal nations like Germans, Italians, Portuguese or Danes, there were also some more exotic riders at the start in Echternach like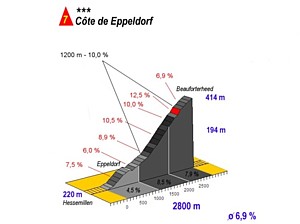 côte d'Eppeldorf

one Canadian, one American, one Japanese, one rider from Hungria, from Monaco, Poland and Rumania. (riders from 23 different nations at the start)

The course visited mainly the same regions as last year but, with 2100 metres of change in altitude (1600 in 2009) for the big course and 1200 metres (1000 metres in 2009) for the smaller one, it was clearly more difficult than 12 months ago. While the first kilometres have been completely flat in the last two years, there was a long climb just after the start this year, meaning less bigger groups and more security during the whole race. The final of the race was also tougher with the Pafebierg inside the last 20 kilometres before the rush to the line in Echternach. On the long course, it was again the mighty climb of Groesteen (3,8 km at 7,4 %) who made the biggest selection, but there was new quite difficult climb up to Beaufort passing through the small village of Eppeldorf. It is 3 kilometres long at 6,9 % average gradient and contains a long, straight and very steep section with slopes of more than 10 %. Once again, the beauty of the countryside was one of the major attactions of this Charly Gaul with for example the 16 kilometre long, slightly uphill part to the highest point of the race in Schmuelen, the valley of the Our, the valley of Mullerthal, the heights of Pafebierg or the downhill to the valley of the Sure and the rush to the finish in Echternach.

Race A

The start of the A-race over 160 kilometres was fast as usual and soon, the peloton split up into several groups on the climb to Michelshof, just after the start. 50 riders remained in the lead at the summit of the climb, but another 30 of them were able to bridge up shortly after that. The next climbs were not too difficult and the situation remained the same in the lead. When Enzo Mezzapesa attacked after 60 kilometres, they were still around 80 chasing him in the valley of the Our. the next bigger group was one minute and a half behind the first one at that moment.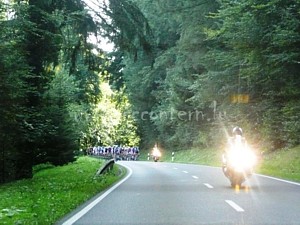 first climb of the day

The rider from Differdange was the first one to tackle the climb of Groesteen, but he was soon passed by a very strong Ralph Diseviscourt. The Luxemburg time-trial champion showed an impressive ride on the legendary climb and, if nobody was able to follow, the peloton exploded completely behind him.

Ralph Diseviscourt, who was second in last year's race after a long break of more than 120 kilometres, arrived alone at the top of the Groesteen, 15 seconds ahead of a small group of 6 riders containing among others Belgian elite rider Anthony Spysschaert, Luxemburg's 2006 winner Philippe Herman an another Belgian named Peter Enckels. 10 seconds later, another group of 12 riders arrived at the top, followed by 7 more at 30 seconds of the leader, including two times Charly Gaul winner Jean-Charles Martin. Diseviscourt, a three times winner of the Gran Fondo Eddy Merckx, showed a great race at the front and he extended his lead up to one minute and a half after the descent, while the three following groups came together and they were now 28 chasing him. Among them, we found Feike Loots, winner in 2007, Mezzapesa, winner in 1997, the third placed of last year Mark Touwen, former Luxemburgish National champion Mark Leyder, cyclo-cross specialist Gusty Bausch, Luxemburgish riders Thibault Di Fabio, Fabio Emili, Georges Jodocy and Luis Nelson or Michel Heydens from Monaco, a former car racer who has changed into cycling and cyclo-sport races in the latest year (winner of La Cyclo'Corse or La Drome Provencale this year).

After the côte d'Eppeldorf, there was another selection and they were still 19 in the first group, still chasing behind Diseviscourt. Jean-Charles Martin started his move and on the climb of Consdorf, the winner from 2001 and 2003 escaped with three more riders (Bob Adrianssens, Philippe Herman and Anthony Spysschaert). With 15 kilometres to go, the bridged up to Diseviscourt, who has ridden for more than 50 kilometres alone in the lead, while the next chasers were less than a minute back. The race was far from being over at that point.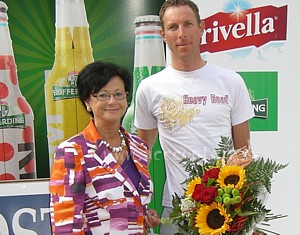 for the third time winner of La Charly Gaul: Jean-Charles Martin

There were no more topographic difficulties ahead of the riders, but in the valley to the finish, the speed was very high with lots of attacks in the two groups. After several unsuccessfull attempts from Michel Ossieur, Peter Enckels and Mark Touwen managed to break away from the chasing group and to bridge up to the front, where Bob Adrianssens had been dropped. Last year, Touwen did excactly the same move and ended third in the race. They were thus 6 to sprint for the victory in Echternach and Jean-Charles Martin was fastest ahead of Diseviscourt, who had already finished in second place last year. Philippe Herman, who had some difficulties in the last part of the race, took the third position, Belgian contender Peter Enckels, one of the most active riders in the race, ended in fourth while Gerrit Teunis won the sprint of the next chasers in 8th place, around 40 seconds behind. The third group of the day was already more than 10 minutes back.

In the women's race, nobody was able to match up with Mariska Breyne, a young Belgian elite racer of 24 years who participated this year among others in the Omloop Het Nieuwsblad. At the foot of the Groesteen climb, she was in a second group, less than 2 minutes behind the head of the race and she had already a good margin on the next female chasers, Eliane Diederich and Irmgard Lütticken. After the climb, Breyne still was in very good position in the Top 100 overall, but she knew some trouble at the end of the race when she was dropped out of her group. She fell back several places in the scratch classification, but the victory in the women's category was already in the pocket at the moment. In the end, Marisky Breyne took the win with 23 minutes advantage on the second lady, Eliane Diederich from Luxemburg, who was 10 minutes faster than German Lütticken. Breyne crossed the finish line in 127th position overall, 40 minutes behind the male winner of the day.

Déroulement de l'épreuve B

Gilberto Simoni et Kim Andersen emmènent le peloton dans la portion neutralisée après le départ provisoire sur la place du marché à Echternach. Mais, si les deux vedettes sont d'une disponibilité sans égal avec le commun des pédaleurs et posent de-ci et de-là pour des photos ou un brin de causette au départ et à .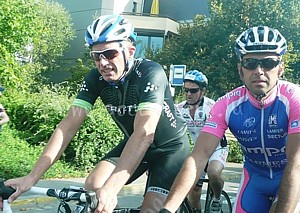 At the start of La Charly Gaul B: Kim Andersen and Gilberto Simoni

l'arrivée, ils n'ont aucune intention de disputer la course pour la gagne et s'en iront donc parmi les anonymes après quelques coups de pédales. La course, la vraie, démarre bien vite: dès la première côte vers Michelshof, deux hommes partent à l'attaque et réussissent à s'octroyer une petite avance. Jeremy Grosjean, un habité des cyclo-sportives qui avait notamment terminé 10ème de La Christophe Brandt cette année, chez lui en Belgique et le champion de Lorraine de cyclo-cross Jérôme Ehald de Lunéville tentent en effet leur chance de loin, mais ils seront repris bien avant le but. Après la côte d'Eppeldorf, la difficulté la plus sélective de l'épreuve B, une quarantaine de coureurs se retrouvent encore en lice pour la victoire, parmi eux une majorité de coureurs belges. La sélection continue et quelques bosses plus loin, ils ne sont plus que 8 en tête : Grosjean et Ehald, toujours eux, Peter Schroen, double vainqueur déjà de La Charly Gaul B, Sylvain Melon, le 6ème des championnats de Belgique amateurs, son frère Vincent, qui avait déjà été à l'attaque dans l'année dernière et les trois autres coureurs Belges Christian Gonda, Julien Ponsard et Nino Guistizia. Point de Luxembourgeois donc dans le premier groupe, les meilleurs d'entre eux, Alain Juncker et Fabricio Prado, se trouvent dans un deuxième groupe d'une trentaine de coureurs, à moins d'une minute.

L'ancien professionnel Peter Schroen, coéquipier du grand Sean Kelly et vainqueur notamment d'une étape du Tour d'Autriche et de Spa-Hasselt-Spa dans les années 80, figure comme grandissime favori dans ce groupe et il prends l'initiative : ensemble avec Christian Gonda et Sylvain Melon, celui qui a terminé pas moins de 5 fois sur le podium de La Charly Gaul dans les 8 dernières années prends les devants à l'approche des derniers kilomètres et les trois coureurs s'octroyent quelques dizaines de secondes d'avance sur leurs anciens compagnons d'échappée: la victoire ne peut plus échapper à l'un d'eux. Mais alors que tout le monde se prépare au sprint décisif, l'erreur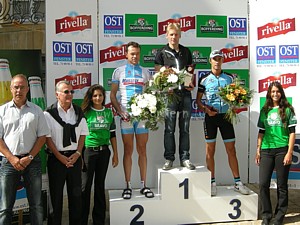 Podium of La 21ème Charly Gaul B: Gonda, Schroen, Melon

se produit: au lieu de suivre le fléchage dans les rues d'Echternach, les trois coureurs s'engouffrent dans une rue adjacente au parcours derrière la moto ouvreuse. Le temps de retrouver leur chemin, Schroen et Gonda rejoignent la ligne d'arrivée … en venant du mauvais côté. Plus question d'un sprint régulier mais très sportivement, Christian Gonda reconnaît la supériorité de Peter Schroen et lui accorde la victoire, se contentant du premier accessit. Sylvain Melon figure en troisième position dans le classement quelques secondes plus tard, tandis qu'un autre Belge, Julien Ponsard, règle le sprint des poursuivants pour la quatrième place. Dans un groupe de trois coureurs, Alain Juncker termine meilleur luxembourgeois à la 11ème position, une minute et 12 secondes derrière le vainqueur du jour.

Chez les dames, la course se joue entre la Belge Melissa Flagothier, qui a évolué dans une équipe professionnelle brittanique durant 2 ans avant de jeter son dévolu sur les cyclo-sportives, et la Luxembourgeoise Christine Kovelter. Dans la côte d'Eppeldorf, Flagothier se retrouve dans le deuxième groupe masculin, fort d'une trentaine d'unités, alors que Kovelter évolue un peloton plus loin, à quelques secondes. Mais l'écart entre ces deux unités ne cesse de grandir et, finalement, Melissa Flagothier remporte la victoire dames avec plus de 6 minutes d'avance sur la Luxembourgeoise. La troisième concurrente, Martine Licker, franchit la ligne d'arrivée avec près d'un quart d'heure de retard. Au classement scratch, Flagothier termine à la 69ème position, moins de 7 minutes derrière Peter Schroen. L'ancienne membre de l'équipe nationale Belge féminine est arrivé à Echternach dans un troisième groupe fort d'une trentaine d'unités et, alors qu'elle pouvait prétendre à une place dans le Top 50, elle a complètement râté son sprint pour figurer dans les derniers de son petit peloton après une très belle course.